Harvey, Cindy, and Family...
Each of our five children and eleven grandchildren keep pretty busy, but all live within a half hour drive from the farm allowing all of us to get together frequently for family dinners.

Karey is married to Michael Koehn and live in rural Elmwood, NE. They have three children Whitney, Spencer and Harrison. They raise sideoats and little bluestem on their farm.
Kim is married to Steve Cawley and live in Elmwood, NE. They have three children Emily, Katie and Charlie.
Larry is married to Kelly (Hasemann) and their family lives in rural Murdock. They have three children, Brooke, Justin and Jenna. They grow little bluestem where they live.
Amanda is married to Zach Hartman and have two children, Logan and Isabelle. They live in Gretna, NE.
Jessica is married to John Butler and they live in Lincoln.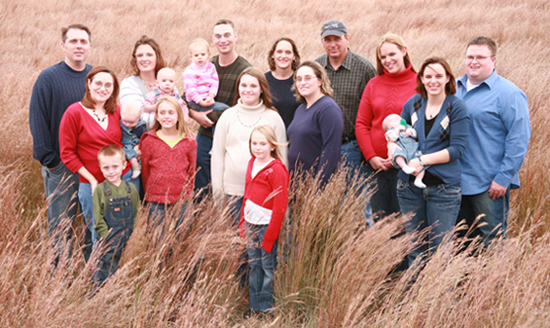 Photos by Barnes Photography